What are you doing this weekend?  I love keeping an eye out for fun and inexpensive things that your family can do to have fun and stay busy, but be together.  If you are on a budget (aren't we all?), check out this awesome list of national retailers with hands-on workshops, classes, and free in-store events for this weekend and more that are coming soon.  Have fun!!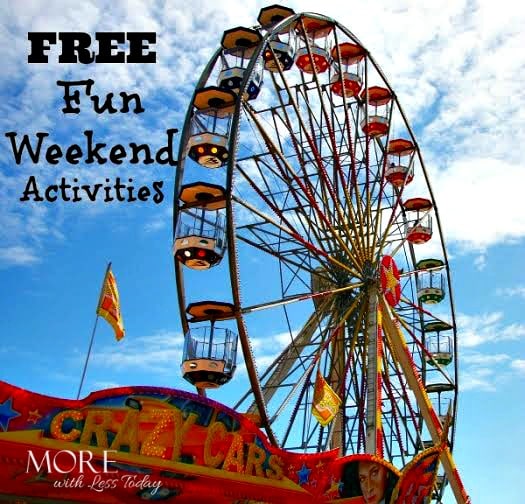 Share this fun, money-saving list with your friends and family. If you know of any other free weekend events to include, please let us know! It's always best to call ahead to be sure that your local store is participating to avoid disappointment.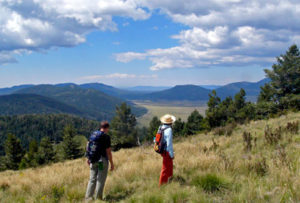 FREE National Park Admission
September 30th: National Public Lands Day
Here is a list of participating national parks.

Saturday, September 30th
Join in storytime and activities featuring Runny Babbit Returns. Contact your local Barnes & Noble store to verify participation.

Workshops Series – Guitar Center offers free workshops, online classes or in-store lessons taught by experts that will help you learn and have more fun while you do it yourself. Contact your local Guitar Center store for more information.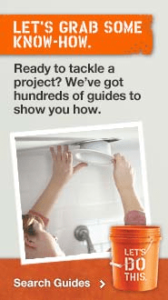 Home Depot Do It Yourself Workshops
Get the skills you need to improve your home at these free workshops. Get more information at Home Depot Workshops.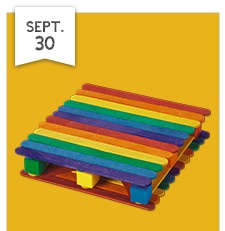 Saturday, September 30th from 11 AM – 3 PM and a few locations offer free crafts on Sunday.
Kids ages 3 and up design and take a crafty coaster. No reservations are necessary. Get more information from Lakeshore Learning Free Crafts for Kids.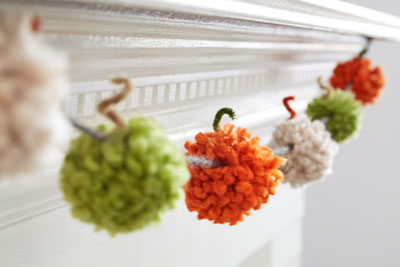 Saturday, September 30th from 10:00 AM – 12:00 PM
Kids Club® – Kids 3 and up make and take a Pom Pom banner. The cost is $2 and the rest of the supplies are included. Sign up in store, online or just drop in. Parent or guardian must remain on premises.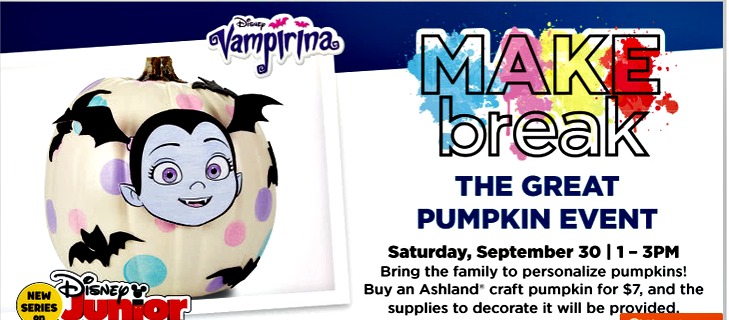 Michael's Make Break The Great Pumpkin Event (not free)
Saturday. September 30th from 1-3PM
Buy an Ashland® craft pumpkin for $7 and the supplies to decorate it will be provided.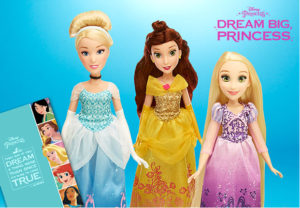 Saturday, September 30th from 12 – 2 PM
Disney Princess Dream It, Be It event
Kids can wear their princess gowns, get free gifts and more. Take home a FREE exclusive Dream Activity Journal. Enjoy storytime and receive a free Disney princess poster. Register and get more information at Toys "R" Us.
More to Explore Throughout the Year:
FREE National Park Admission Dates for 2017
Here is a list of participating national parks.
Saturday, October 7th, and October 8th
Bank of America's Museums on Us is offering free admission to more than 150 museums nationwide. Simply present your Bank of America or Merrill Lynch credit or debit card along with a photo ID to gain free general admission to any participating institution. Cardholders only; guests are not eligible for free admission.
Find Free Museum Dates
This site, www.freemuseumday.org, tracks free museum days in the following cities: Boston, Chicago, Los Angeles, New York, Portland, San Francisco Bay Area, and the Seattle Area.
Free National Parks Pass for 4th Graders
If you have a child in 4th grade this year, your family can get a free National Parks Annual Pass to give you free entry into national parks, national forests, national wildlife refuges, and more! Teachers of 4th graders can also get passes to plan free National Park field trips.
Apple Store
Free workshops – learn the basic of Mac, iPad, iPhone, or iPod. Learn how to create slideshows with iPhoto. Edit home movies with iMovie and more! Find your local store and make a reservation for a free workshop here.
Bass Pro Shops – find seminars on fishing, camping, boating and more. Check your local store listings for times and information.
October 28th – TRUNK OR TREAT from 5:00 PM – 9:00 PM
Factory Tours
Find factory tours all across the USA, go here, The site has 570 tours listed and counting! Many are free but some may have an admission fee. (Thanks to the Happy Housewife for sharing this!)
Flying Lessons
Young Eagles – Kids ages 8 to 17 experience aviation and get free rides in private aircraft flown by experienced pilots.
Fire House Bank – Saturday, Oct. 7th from 9-12 PM
Kids can build a handy pencil case truck. All kids get to keep their craft, receive a FREE certificate of achievement, a Workshop Apron, and a commemorative pin while supplies last. Children must be present at the store to participate in the workshop and receive the kit, apron, and pin. Go to the
Home Depot Kids Workshop website
for more information.
Home and Garden Shows
If you like Home and Garden shows, this site will give you a free pass. Check the ACS Home Show site.
Jazzercise
Jazzercise is currently offering FREE dance fitness classes to girls ages 16-21 at participating locations. No strings attached! Contact your local Jazzercise to see if this offer is available in your area. Valid throughout 2017.
Lego Stores Free Model Build
LEGO Monthly Mini Model Build events are typically held monthly where kids ages 6-14 can build a Free LEGO Platypus Mini Model! Be sure to click on the "Open Form" button to register. You must be a LEGO VIP Loyalty Member and use an email address saved in your LEGO VIP Membership account to register. Membership and registration are free. Get more information here: shop.LEGO.com/VIP. Quantities are limited to approximately 120 per store per night and time.
Major League Baseball Clinics
Through the Major League Baseball Players Alumni Association, kids can attend a free baseball clinic in many locations across the country. The free program is called Free Legends for Youth Kids Clinics.
Microsoft High Tech DigiCamp for Girls (free)
Microsoft is proud to offer technology programs specifically for youth. Find out more information here.
Pottery Barn Kids
Enjoy story time on Tuesdays from 11 – 11:30 AM. For more information, visit Pottery Barn Kids events here.
REI Running Classes
Learn or get back into running with training and techniques classes. Find out more at REI.com.
Kids (Roller) Skate Free – sign up for each of your children to receive 2 free Skating Passes a week for kids ages 12 & under.
SKI Passport for 5th Graders
Go to www.5thgradeskipassport.com to get a free pass in Idaho or the Pacific Northwest. For other areas, search for your state with the words "5th-grade ski pass + your state", or the name of your local ski resort.
Target – Free Community Events
Target is also sponsoring FREE community events ranging from free museum admission, free theater tickets, family activities and tours at some of our countries most famous venues. Times and locations vary by city. Find free family activities sponsored by Target in your area right here.
Cooking workshops typically held on Sundays. Some events have a fee. Contact your local Williams-Sonoma store for information and times.
Celebrate Crazy and Fun Holidays
Make memories and celebrate fun holidays with your family. This week you can celebrate Coffee Day, Techie Day, Taco Day and more. See more at Days of the Year.
* For more ideas for family fun, be sure and check Groupon, and LivingSocial in your area. Join each site for free and start having more fun on a budget! These vouchers make great gifts too!
For inexpensive and sometimes free tickets to local events, I am a fan of Goldstar tickets. Watch your emails for the heading "Comp Train" from Goldstar. If you are new, you can set up a free account here.
Be sure and check out your local library and parks and recreation departments for free programs and events right in your hometown!
Thanks so much for this awesome list, More with Less Today!